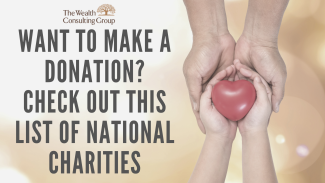 Want to Make a Donation? Check Out This List of National Charities
Donating to charity is one way that people can help to change the world for the better, and as an added bonus, your contributions may even qualify you for a tax deduction. But with so many great charities around the country, how can you decide where to donate? 
To help you narrow down your choices, take a look at this list of national charities sorted by category. 
Animal Protection Charities
If saving animals is your passion, you may want to donate to some of these national charities:
The American Humane Society — Devoted to protecting animals from cruelty and neglect, the Humane Society was founded in 1954, and it works to stop puppy mills, end animal testing for cosmetics, ban trophy hunting, and more.
Jane Goodall Institute (JGI) — Known for her work with primates, Jane Goodall founded this organization in 1977.  JGI supports Gombe research and leads the world in efforts to protect chimpanzees and their habitats. 
Wildlife Conservation Society — For over 125 years, this organization has been saving wildlife and wild places by focusing on conservation, science, and education. 
Cancer Charities
Cancer causes over 600,000 deaths1 in the United States each year, and if you want to make a donation to support research or to help people who have been diagnosed with cancer, you may want to check out these charity organizations.
Breast Cancer Research Foundation
Cancer Research Institute
Leukemia & Lymphoma Society
Ovarian Cancer Research Alliance
Prevent Cancer Foundation
Pancreatic Cancer Action Network
As you can see from the above list, there are some charities that focus on cancer in general, while others are centered around a specific type of cancer. 
Civil Rights Charities
Want to see more social justice in the world? Then, you may want to donate to a group like the American Civil Liberties Union (ACLU) which is devoted to preserving civil liberties for every person in the United States. Alternatively, groups such as the NAACP Legal Defense and Educational Fund and the National Urban League focus on protecting the rights of African-American citizens in particular, while the Native American Rights Fund helps Indigenous communities. Or, you may want to look into the Human Rights Campaign Foundation, the Interfaith Alliance, or the Electronic Frontier Foundation -- These groups focus on LGBTIA, religious, and online communities respectively. 
Charities to Help Disabled People
There are many local charities devoted to this effort, but if you want to donate to a national charity the Christopher & Dana Reeve Foundation or Goodwill Industries International are ideal options. 
Environmental Charities
Want your donation to go toward helping the environment? Then, think about these options:
African Wildlife Foundation — Using multi-faceted methods that protect both people and wildlife, this group focuses on conserving nature and wildlife in Africa. 
Amazon Conservation Team — Working with the indigenous people of South America, this group works to save the Amazon rainforest. 
American Rivers— If you want to focus on conservation close to home, this group strives to protect rivers in the United States.
The organizations listed above are just the tip of the iceberg. There are countless other national charities devoted to a wide range of missions. 
LPL Financial and these charitable organizations are not affiliates of each other and make no representation with respect to each other.
This information is not intended to be a substitute for specific individualized tax advice. We suggest that you discuss your specific tax issues with a qualified tax advisor.
All information is believed to be from reliable sources; however, LPL Financial makes no representation as to its completeness or accuracy.
Sources